Michigan Granite Tops is the place for Granite Countertops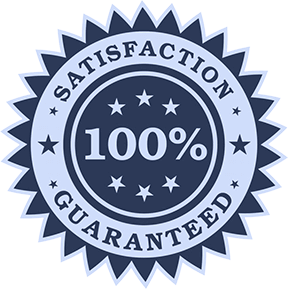 Our company
You'll receive the best service and care for the granite that's going into your home. We'll help you pick out the perfect granite for your home.
At Michigan granite countertops we offer high quality granite at an affordable price. We fabricate and install all of the Michigan granite ourselves so you're not paying for high prices like you would at most chain stores. Cut out the middleman and save lots of money. Our countertops range anywhere from $25 to $70 depending on the size, thickness, and type of material you have for the granite.
Granite is your best countertop choice out there. Granite is much more dense than anything on the market and wont scratch. Granite keeps its shine over time and is very easy to maintain. Michigan granite countertops will also seal your counters after installation. And after you have made the choice to go with granite you will never look back for several reasons. Most people do not know this, but granite has been valued for hundreds of years for both its appearance and durability. But to truly understand how important a material granite is and can be for you, it is important to understand its properties.
No matter where you are going to use it, keep in mind that the durability factor and the fact that is is nearly maintenance free should get you to pay attention. We will not bore you with all of the details, but suffice it to say that granite has a very unique structure that gives it very special properties and its amazing look. It does not scratch and it will look the same ten years from now as it does when it is installed. What this means for you as the homeowner is that you won't have to worry about damaging it. Don't waste another minute putting up with what you have been living with. Call us and we can start discussing some great options that will make you smile for years to come.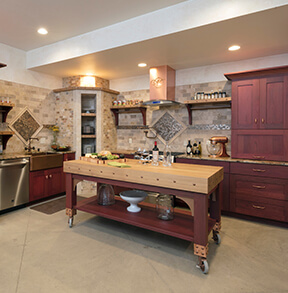 Wall and floor
This is a Detroit Granite kitchen we did in Royal Oak Michigan. It was a large kitchen and featured an undermount sink and we also installed custom cabinets.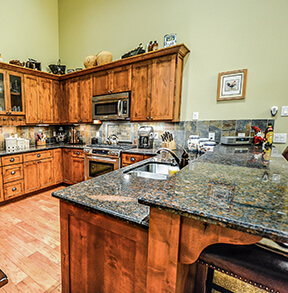 Carpentry
This is another kitchen we did. As you can see our granite countertops are top of the line and look phenomenal. We can do any style to fit your needs and style of kitchen.