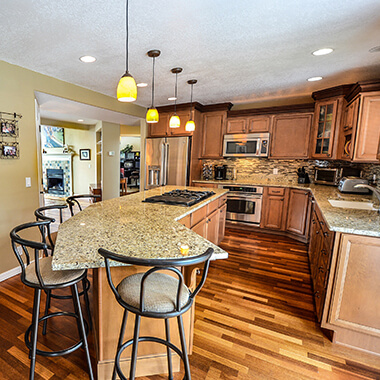 Kitchens
COUNTERS AND ISLANDS
---
The kitchen is the heart of every home. It's where you feed your family. Where your guests gather when the visit. Everyone wants to have a great kitchen for cooking and entertaining. We can make your kitchen look spectacular. We can help you pick the best granite design for your kitchen whether it's to match your current kitchen or a complete renovation you might be doing. We can come up with designs for your granite and cabinets that will make your kitchen look great. Some people to a different design for the island or a different granite. There's also the style of a waterfall where the granite seamlessly goes from the top all the way to the floor. Bar tops and eat in's are also a way to spruce up the style with a different look. We will come to your home to give you ideas and also bring along samples of granite for you to pick your favorite out of.
Bathrooms
VANITY'S, BATH TUBS AND SHOWERS
---
There are many things in the bathroom that you can use granite for. There's the sink space along with the vanity space, tubs, showers and even for counter space in the walk in closet. We can come to your house to help design the bathroom for your dreams. We will sit down with you and offer you different styles and plans that we can do. We will also have samples of our granite for you to pick from. We will try to work with you so that you get the best deal possible with the best looking bathroom. Some people like to match the granite in their bathroom from the granite in their kitchen. We can design both your kitchen and bathrooms so that you get a great deal. Having granite around the tub is a great way to class the bathroom up. It'll make you think you are at a fancy hotel. Perfect place to soak and relax. We pride ourselves in our bathroom solutions.